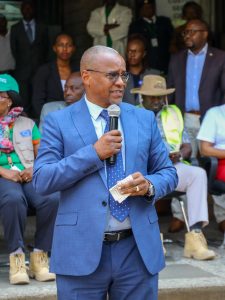 The State Department for Lands and Physical Planning has commenced a nationwide initiative to roll out the Cashless Revenue Collection policy.
The initiative is seen as a significant step towards eradicating cash transactions within land offices, which will ultimately reduce embezzlement cases.
Speaking Monday during the flagging off of the programme, Cabinet Secretary for Lands, Public Works, Housing, and Urban Development Zachariah Njeru said the Ardhipay system will improve service delivery. "We are doing this because we want to improve service delivery to our citizens. The State Department for Lands and Physical Planning has really worked to see that Kenyans are served fast and efficiently," said Njeru.
In his remarks, Principal Secretary for Lands and Physical Planning Nixon Korir said the programme will ensure that no cash is involved in land transactions. "We want to go cashless in all our registries nationwide in 14 days, starting today. For the last three weeks, we have rolled out cashless at Ardhi House, and it is working well," said Korir.
The PS added that the State Department has developed an Ardhipay system that is linked to the E-citizen, which will help in the implementation of the policy. He noted that the policy mandates the use of digital payment methods (MPESA or banks) for all services, fostering accountability, precision, and timely reporting in revenue collection. Implementation in the 18 offices has demonstrated remarkable improvements in revenue collection.
The 18 stations where the cashless policy is already in effect include Wundanyi, Kiambu, Murang'a, Ruiru, Thika, Ngong, Kajiado, Eldoret, Mombasa, Kisumu, Trans Nzoia, Machakos, Gatundu, Naivasha, Survey of Kenya, Ardhi House, Yatta, and Kisamis.
To expedite this nationwide transition, Korir noted that the State Department will embark on an extensive 14-day exercise to implement the policy in the remaining 76 land offices.
This initiative includes the provision of computers and essential ICT equipment and ensuring that all land offices are well-prepared to implement the policy and embrace the future digitization of land services.
Dedicated field office staff, he added, will receive specialised training in cashless revenue collection, ensuring a smooth transition.
The PS added that public awareness campaigns will also be conducted, educating citizens on the straightforward steps to making payments as well as demonstrating how the public can conveniently utilise the Ardhisasa platform for seamless Land Rent payments.
By Catherine Muindi