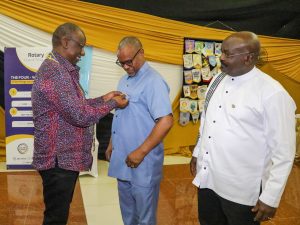 Cabinet Secretary for Lands, Public Works, Housing and Urban Development, Zachariah Njeru has commended Rotary club of Thika for the vital role they have continued to play in the community to better the lives of Kenyans especially by supporting informal Settlements.
CS Njeru spoke this evening during the installation ceremony of Julius Kimando as the President of Rotary Club of Thika and Board of Directors 2023-2024.
He said, through their various initiatives, Rotary clubs have improved access to education, healthcare, clean water, and sanitation. They have supported vocational training, empowered women and youth, and championed environmental sustainability which is in line with the Kenya Kwanza government.
"As we embark on this new Rotary year, I would like to congratulate my friend President Julius Kimando and the newly appointed Board of Directors. Your election to these esteemed positions signifies the trust and confidence that your fellow Rotarians have placed in you," said the CS.
He called upon the club to collaborate with the Ministry of Lands, Public Works, Housing and Urban Development in supporting informal Settlements especially to see that they live in decent houses.
The new board members include Charity Maina (President Elect), Dr.Steve Mugucia, Rosemary Ciira, Loise Njoroge, Nancy Gitau, Regina Nduku,Stanley Kibue, Anne Kamonjo, Milton Wambugu and Wamahiu Kibugu.