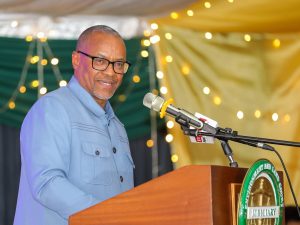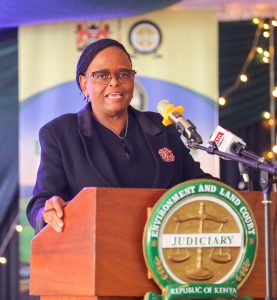 Cabinet Secretary for Lands, Public Works, Housing and Urban Development Zachariah Njeru has this morning assured the Judiciary that land digitization is moving very well and has enhanced security of tenure in areas already covered.
The CS made the statement today when he addressed Environment and Land Court Judges' Annual Conference in Naivasha themed 'Enhancing Specialization and Efficiency in the Environment and Land Court'.
CS Njeru said in the past, fraudsters used to succeed to corruptly acquire or transfer property without the knowledge of the rightful owners, something that is impossible with the deployment of Ardhisasa.
"Any time someone attempts to perform any form of transaction on any piece of land, Njeru said, the system generates messages and alerts the owner or owners of the attempt," said CS Njeru.
The digitization of land records for Nairobi County is nearly complete and we will soon be launched in Mombasa and Muranga.
"We are currently working together with stakeholders including the Law Society of Kenya, the Institution of Surveyors of Kenya, the Kenya Bankers Association, and the Association of Registered Land Surveyors of Kenya in addressing some challenges experienced by users of the system," he added.
Njeru stated that the challenges were as a result of oversights during the initial development of the system.
He noted that the State Department for Lands and Physical Planning has been working hard to improve efficiency at Ardhi House and has made commendable progress in boosting the integrity of service provision.
As a result of these efforts, the CS said, the processing of title deeds is today done more quickly than in the past.
Njeru commended the creation of the two new divisions of the ELC namely the Land Division and the Environment and Planning Division.
He said the creation of the Environment and Planning Division is also very timely since it will position the ELC to play an effective role in the management of the environment and climate change mitigation.
Njeru noted that the conference provides an important forum for stakeholder partnerships in management of land resource.
"I am happy that land use planning is one of the sub themes of this conference. This will enable stakeholders to discuss crosscutting aspects of sustainable land use and explore ways of balancing the interests of different groups with respect to the usage of land," said Njeru.
He said land use planning is critical to food production, human habitat, access to water and good health among many other socioeconomic aspects.
Present also during the conference were Chief Justice Martha Koome, Deputy CJ Philomena Mwilu, Law Society of Kenya President Eric Theuri, Director of Law Division at UNEP.
Prof. Patricia Kameri-Mbote, National Land Commission Chairman Gershom Otachi, among others.