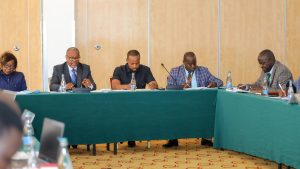 Cabinet Secretary for Lands, Public Works, Housing and Urban Development Zachariah Njeru and PS Generali Nixon Korir told Members of Parliament that they are making sure they get it right with land digitization process.
The CS and the PS made the statement today when they appeared before the Public Investment Committee on Social Services, Administration, and Agriculture led by Hon. Wangwe Emmanuel.
They told the Committee that land digitization process, if not done right, will not produce the desired results.
They said the digitization process was initially started without involving all stakeholders and that was why when the Government launched the Ardhisasa platform, users experienced delays.
The CS and the PS said the development of an updated and live cadastre is the foundation rock of the automation of land records.
CS Njeru said the State Department of Lands and Physical Planning has now started working with relevant stakeholders in tackling issues and improving the Ardhisasa processes
"In the next few months we will be done with Nairobi and it will help a big deal in that land transactions will be faster and the Government shall generate more revenue," said CS Njeru.
PS Korir said the process of searching land details using the online system can only work properly when the cadastre is up to date.
Explaining to the Committees' chairman on why getting searches is a challenge, PS Korir said Land Reference numbers have to be converted to blocks first because Ardhisasa system ingests blocks, and for a search to be successful online, has to be done on the converted parcels.
The PS said the process involves converting land reference numbers to blocks.
"The Ardhisasa system is working in Nairobi, Mombasa island and some parts of Murang'a, we want to roll it out in to other parts of the country but the cadastre is the problem," said Korir.
PS Korir revealed that initially, Ardhisasa was like an operation by security agencies only and had a lot of hiccups until the stakeholders were brought on board.
Ardhisasa is an online platform that allows citizens, stakeholders and interested parties to interact with land information held and processes undertaken by the Government.
The CS and PS were invited to appraise the Committee on operations of Valuers Registration Board.